The Monsters of Verity [1] is a duology by Victoria Schwab, following Kate Harker and August Flynn, two heirs to the divided city of Verity, where monsters are born from acts of violence. The two books, This Savage Song and Our Dark Duet, were published by Greenwillow Books/HarperCollins Children's Books.
This Savage

Song

Edit
This Savage Song is the first book in the Monsters of Verity duology. It was released on June 7, 2016.
Kate Harker and August Flynn are the heirs to a divided city—a city where the violence has begun to breed actual monsters. All Kate wants is to be as ruthless as her father, who lets the monsters roam free and makes the humans pay for his protection. All August wants is to be human, as good-hearted as his own father, to play a bigger role in protecting the innocent—but he's one of the monsters. One who can steal a soul with a simple strain of music. When the chance arises to keep an eye on Kate, who's just been kicked out of her sixth boarding school and returned home, August jumps at it. But Kate discovers August's secret, and after a failed assassination attempt the pair must flee for their lives.
Our Dark Duet
Edit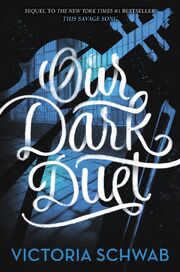 Our Dark Duet is the second book of the Monsters of Verity duology. It was released on June 13, 2017.
Kate Harker is a girl who isn't afraid of the dark. She's a girl who hunts monsters. And she's good at it. August Flynn is a monster who can never be human, no matter how much he once yearned for it. He's a monster with a part to play. And he will play it, no matter the cost.
Nearly six months after Kate and August were first thrown together, the war between the monsters and the humans is terrifying reality. In Verity, August has become the leader he never wished to be, and in Prosperity, Kate has become the ruthless hunter she knew she could be. When a new monster emerges from the shadows—one who feeds on chaos and brings out its victim's inner demons—it lures Kate home, where she finds more than she bargained for. She'll face a monster she thought she killed, a boy she thought she knew, and a demon all her own.

Read more...
References
Edit
Community content is available under
CC-BY-SA
unless otherwise noted.